Last week, former 17 year NBA vetern and current ESPN analyst Mark Jackson was appointed new head coach of the Golden State Warriors. It seems like just yesterday I was watching this
crafty vet
lace up the kicks and
share the sugar
as a player. Now Mark Jackson will be prowling the sidelines in hopes of guiding the struggling Warriors back to the playoff hunt. The Mark Jackson hire spurred me to speculate what current NBA players are destined to be scribbling X's and O's in the near future.
1. Grant Hill, SF Phoenix Suns
The ageless wonder Grant Hill, now 38 years old, is a guy that is probably going to find himself suited up at the end of the bench someday. Hill is a guy that always remains composed and calm under pressure. He's an articulate, high IQ guy of Duke pedigree and I think that's what makes him a solid potential head coach. He knows the game, he's playing chess while everyone else is playing checkers.
2. Derek Fisher, PG Los Angeles Lakers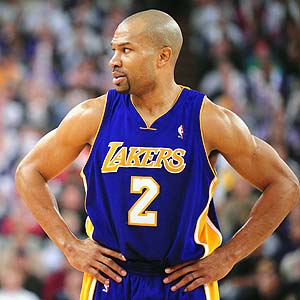 Derek Fisher already serves a role for the Lakers as player/coach, a lá Michael Jordan in
Space Jam
.
Fisher exemplifies the term floor general and is the unsung leader of the Lakers dynasty. He's a guy that directs traffic on the court and I can see him directing traffic from the sidelines,
alongside Brian Shaw
, in the next 5-10 years.
3. Brian Cardinal, SF/PF Dallas Mavericks
A bit of a sexy pick, but bear with me for a second. Cardinal wouldn't even been on the radar until I watched him play in Game 5 of the NBA Finals. Mark Jackson commented that though Cardinal wasn't the most athletic guy on the floor, he was making all the right plays; boxing out, taking charges, and showing real moxie in his limited minutes. Remind you of any
former player/current head coach
? In the mold of Kurt Rambis, Cardinal is a fundamental, hard working and heady player, all attributes that the current NBA game desperately needs. I think Cardinal could bestow these skills someday to some lucky team.
4. Brandon Roy, SG/SF Portland Trailblazers
This guy straight up loves the game of basketball. After struggling his entire career with two bum knees, I think it is only inevitable that Roy is going to have to call it quits early in his career. But I can't see this guy not wanting to be around the game for years to come as a coach. His passion for the game is unmatched in a league where many players' motto is, "if it don't make dollars it don't make cents (sense)." Roy will stick around as a role player with limited minutes for a couple more years, but because of his injuries, look to see him take his high basketball IQ to the bench as a coach.
5. Shane Battier, SG Memphis Grizzlies
Known for his class and professionalism around the league, Shane Battier has head coach written all over him. He's a defensive minded guy and I could see him as a
Tom Thibodeau
, "defense first," kind of coach. Like Grant Hill, he is a Duke alumn, a program noted for producing heady and tenacious winners.
Court Adjourned