As the season comes to an end for team after team, the front offices have to make the call on which players have a future with the team and which need to be sent packing. Following last year's lockout, the NBA implemented a provision that allows teams to cut players and not have their remaining salary count against the salary cap. These big-money players have been underperforming for their fat contracts and have landed themselves on Court of Appeals' Amnesty Alert.
Chicago Bulls -
Carlos Boozer
He was brought in to Chicago as a post threat to pair with Derrick Rose because of his offensive versatility, but he has hurt the team so much defensively that he can't be left on the floor in tight contests. Typically his ability to hit open shots and create his own offense would be enough to make up for his defensive shortcomings, but he has not been producing at the all-star level we are accustomed to seeing. Don't get us wrong, we love Carlos Boozer at Court of Appeals but he's going to need to do more than
spraypaint his head
and put out the occasional dismal
hip-hop song
to earn the $47 million remaining on his contract. Taj Gibson, though not the same scorer, makes peanuts in comparison ($3.2 million in 2012-13) and provides comparable stats per 36 minutes plus a definite defensive edge. For 15 million per season, he can't expect put up 3 points in an elimination game and feel any sense of job security. If Boozer is in fact amnestied, I only pray that he pairs up with the newly-unemployed Stan Van Gundy to form a duo with unmatched yelling capabilities.
New York Knicks -
Amar'e Stoudemire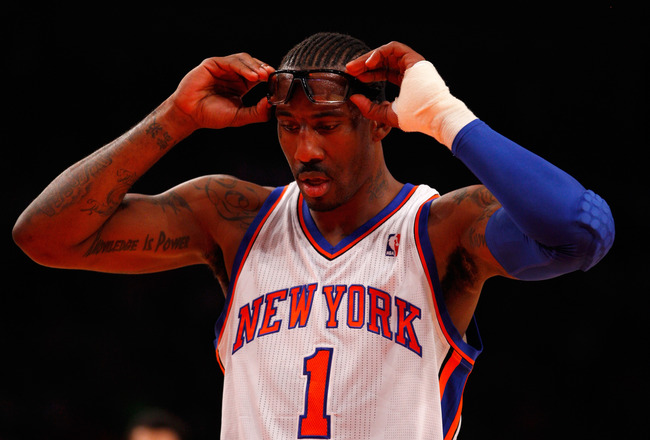 Speaking of underperforming power forwards with lackluster defensive skills... Stoudemire was worse in nearly every statistical category in his first full season alongside Carmelo Anthony. With the Mike D'Antoni era in the Big Apple ending only a tad more respectably than
Isiah Thomas'
, the Knicks must be wondering if the Carmelo/Amar'e/Chandler trio is the right core to move forward with. They owe Stoudemire $65 million over three more seasons, a steep price to pay especially when that money might have to cover punitive damages to Amar'e's poor fire extinguisher or Jeremy Lin for his impressive performance in an incredibly small body of work. This is the same team that gave Jerome James $30 million based on one impressive playoff series after a season in which he averaged 5 points and 3 boards after all.
Los Angeles Clippers -
Mo Williams
Mo was probably happy to escape the Post-Decision Cavaliers for the greener pastures of Los Angeles. Throwing lobs to Blake Griffin and popping trey balls in SoCal is quite a bit more enticing than running the pick and roll with Antawn Jamison in Northern Ohio. But in the offseason the Clips added Chris Paul and Chauncey Billups, bumping Mo Williams down the bench. Throughout the season Eric Bledsoe even managed to leapfrog Williams and now the Clips find themselves paying their fourth string PG $8.5 million. That doesn't bode too well for a team looking to become a legitimate contender in the Western Conference. Though Williams' days in L.A. are probably numbered, he's no lock to be amnestied because he's entering the last year and a team might look to trade for his expiring contract.
Miami Heat -
Mike Miller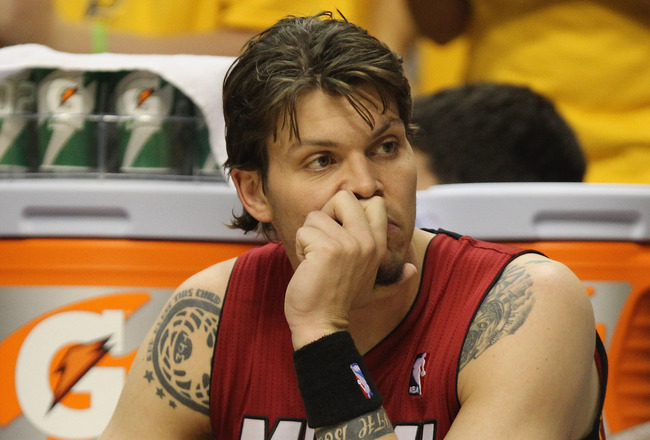 Mike Miller should probably be amnestied for his haircut and awkward tattoo placement alone, but in seriousness if the Heat come up short again this year Miller will likely be on the way out. He was signed to the Heat to be their fourth option but he hasn't met expectations in his limited time on the court due to injuries. Miami doesn't need Miller to make the playoffs, but they need his production in the postseason if they hope to win
not 2... not 3... not 4... not 5... not 6... not 7
championships. 4.6 points per game in the playoffs is not cutting it, and the Heat may well cut the $18.6 million left on his deal.
Court adjourned.